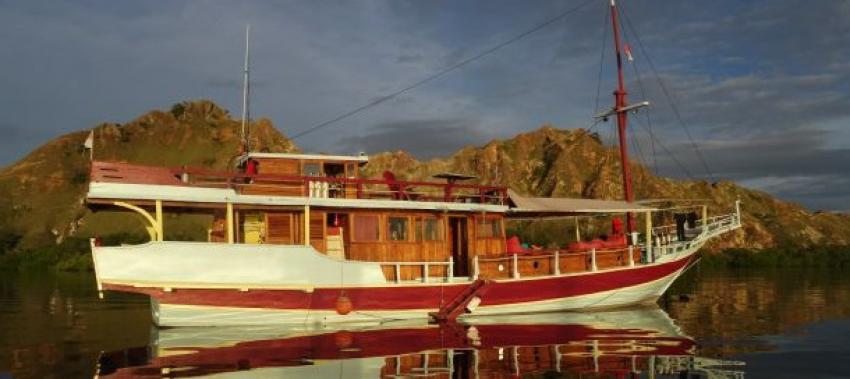 Overview

Schedule & Pricing

Cabins

Amenities

Reviews
Equipment Rental

Surcharge
Ari Jaya is one of the members of Ari Dive Fleet. She is a traditional Indonesian boat that offers diving trips to fascinating Komodo.
Boat Interior
Ari Jaya is a small boat that can accommodate up to 8 passengers on board. All cabins are equipped with double beds. The time between dives boat's guests can comfortably spend on the dive deck. Here you can relax under the shade on cozy mattresses and sun loungers.
Dive Deck
Ari Jaya has a small but convenient sun deck, comfortable to prepare for the dive.
Safety
To ensure your safety on board Ari Jaya have all necessary facilities required by Indonesian law.
Family Diving Safari
Ari Jaya is a small boat that perfectly fits for a small friendly company or family trips. The boat is rather small and if you are planning a dive trip with your friends, it can be possible to book the entire yacht.
Itinerary
Ari Jaya itinerary consists of Komodo National Park diving sites. This destination is a paradise for divers, because of its variety. While diving it's possible to meet many pelagic fish, sharks, mantas, eagle rays. Dive spots around Komodo vary from shallow reefs to deep underwater mountains, pinnacles, and walls. Also, this island is famous for big lizards, called komodo dragons.
When to Go
From April until November is dry season and this period diving is best at Komodo Island. After November begins a rainy season, but diving is still possible.
Ari Jaya is an ideal boat for your company of friends and family. It's small and comfortable, makes you feel true atmosphere of Indonesia
Read more
Booking process
Booking
Select the cabin of your choice and enter your personal information. Submit the booking request. Once the booking is processed, you will receive an email notification with all booking details conveniently laid out in PDF.
Confirmation
Our team will contact the liveaboard on your behalf to confirm availability and other booking details. We put your place(s) on hold and get back to you within 24 hours. If there are any issues, we come back to you with alternative options.
Payment
Once your booking is confirmed, you will receive an email notification with payment instructions. You then have up to 72 hours to take care of other travel arrangements and process the transaction to secure your reservation.
Payment Terms & Cancellation Policy
Expand
Payment Terms & Cancellation Policy
Book with Divebooker and get extra benefits
No Booking Fees
Loyalty Club Benefits
FREE DAN Dive Insurance
Book Now Pay Later
Best Price Guarantee
Special Offers & Deals
24/7 Expert Support
Cabins
Double Cabin
Deck

Lower Deck

Bedding

Double Bed

Max occupancy

2 Guests

Number of Cabins

4 Cabins
4 double cabins
Read more
Reviews about Ari Jaya
Cabins & Facilities

Food & drinks

Guiding & Safety

Service & Infrastructure
Great liveaboard
Verified review
We are a group of 5 friends just returning from a 6D/5N liveaboard on Ari Jaya (private charter), it was an unforgettable experience. A big thumbs up to the whole crew, they were simply amazing and genuinely friendly. The diving itself was even better than we expected, and our divemaster Syam was very professional. We saw mantas, sharks, turtles, huge schools of fish, beautiful healthy coral, etc... Be aware that some dives are quite challenging due to strong currents, divers with minimal experience should be careful. Contrarily to previous comments regarding safety, there was oxygen on board, and we also used reef hooks. Note that there is also a brand new decompression chamber in Lebuan Bajo. It is a budget liveaboard, so don't expect a luxurious boat. It has no A/C, the cabins are quite basic (water drips from the ceiling after heavy rain), bathroom is extremely basic (flushing with a bucket, almost zero water pressure), and the engine even broke down once (but was repaired after a couple hours)... We are a group of guys in our early 30s and didn't mind that at all, but it will not suit everyone. However, the deck is quite spacious and comfy (bean bags, mattresses), we even ended up sleeping there instead of the cabins. The food was excellent and plentiful thanks to our chef Lisa. As for drinks, there was only water, coffee and tea. However, you are allowed to bring anything you want on board, so make sure you stock up on beer and soda before departure (there is a supermarket at the harbor). Don't expect a very organized liveaboard either. On our first day, we ended up walking around town to buy tickets to Komodo NP. Our equipment wasn't ready (although we specified everything through email beforehand), and it took the crew the entire morning to gather it from different dive shops... There was no spare equipment on board either, which could have been problematic. If you can overlook those drawbacks (minimal comfort, poor organization), I cannot recommend this liveaboard enough, especially if you can book it as a private charter with a group of friends.
Read more
Beware - not for everyone. Lower your expectations
Verified review
You get what you pay for. This is a typical budget Komodo liveaboard so don't expect much from crew and vessel. The diving is great though. The cabins on this boat are below deck and next to the engine which is on almost 24/7. The captain turns it off for a couple of hours in the day and a couple of hours before dawn. The rest of the time it's loud, vibrates the rooms and chugs out fumes. I didn't get much sleep at all for the 5 nights. If you can sleep through anything you may be ok. If you are a light sleeper beware. The food is not to everyone's taste. Its basic and there is plenty of it. The local dive guide loved it and a couple of guests liked the breakfast option, another liked the dinner options. You won't starve but may be limited to rice for 2 meals of the day. So for some potentially no sleep and very hungry. The boat smelt pretty bad too. The start and finish of the experience were disasters. We were taken on board and none of the out we'd requested was on board. Panic stations. But everything got sorted eventually. We were then told to sit tight for the next guests to arrive ......in 7 hours. They wouldn't take us back to shore until I told them I needed to go to the pharmacy. The end of the trip the bill arrives. Beware the lagers are the most expensive in Indonesia. Anything else that they can add to a bill they add and tried to charge twice for the park fees. Be careful of that scam, it happens a lot. Check you've paid the park fees and keep the proof on an email close to hand to show the dive guide and captain. All in all it was a pretty shocking experience. But the diving was awesome.
Read more
You also may be interested in