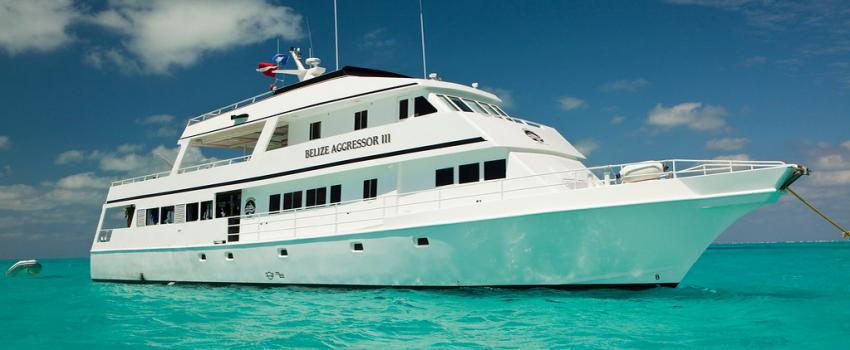 Belize Aggressor III Liveaboard
Overview

Schedule & Pricing

Cabins

Amenities

Reviews
Equipment Rental

Surcharge
Fleet name

Aggressor Fleet

Year built

1993

Length

34

Width

6

Capacity

18

Material

Aluminium
Belize Aggressor III - Caribbean liveaboard, one of the members of Aggressor fleet, that means you get experienced crew team and the best services on board. Boat supplied with special photography facilities, like camera table and a computer to download photos. All dives are made from the mothership, that allows to dive up to 5 times per day. Belize Aggressor's guests can relax after diving on the spacious sun deck, that has a hot tub and numerous of sunloungers. Yacht itineraries include diving on one of the fascinating dive sites - Great Blue Hole. Divers can explore reef covered with gorgonians and giant sponges located on the edge of the hole.
Boat Interior
Belize Aggressor III is a comfortable yacht that can accommodate 18 passengers. They can choose from two different types of cabins. Share a Deluxe Stateroom with another diver or stay at comfortable Master Stateroom. Deluxe equipped with two bunk-style beds has private facilities and individual climate control, also an entertainment system. Master cabin has same facilities, but they are equipped with double bed and a porthole with a gorgeous view.
After a diving day, full of exciting adventures, divers can relax in boat's salon or on the sundeck. Salon area is air-conditioned and has entertainment facilities like TV and DVD. Sundeck equipped with hot tub and a number of sun loungers.
Dive Deck
Belize Aggressor III dive deck is spacious, so every diver can feel comfortable during preparation to dive. There are personal lockers for diving gear, a camera table and charging points for the photo equipment.
Safety
To ensure your safety during the safari, Belize Aggressor III has first aid kit, life rafts, life jackets, safety and rescue equipment, D.A.N. oxygen system, etc.
Photographers Friendly
Belize Aggressor suits for photo trips. This boat has special facilities, big camera table, charging points for the gear and a PC for managing photos. Also, divers can rent photo equipment in a board. Belize is can be a perfect destination for photo trips. coral reefs and a variety of marine creatures make this area attractive to photo enthusiasts.
Itinerary
Belize Aggressor III offers itineraries that include most attractive dive spots of Belize. Dives can book 7 or 10 nights trip to discover more of Belize. Some of the dive site that will be visited during the safari is Angel Fish Wall and Blue Hole, famous for a great chance to meet many Gray angelfish and parrot fish. Diving at Elbow is good opportunity to see much pelagic fish.
When to Go
Diving in Belize is possible almost all year round. Water temperature is about 28 C. March to June can be considered as the best season for diving in Belize. From August to October is the wet season. Hurricanes are possible this time of the year.
Make your vacation memorable and exciting together with Belize Aggressor III. It a good combination of comfort and experience
Read more
Booking process
Booking
Select the cabin of your choice and enter your personal information. Submit the booking request. Once the booking is processed, you will receive an email notification with all booking details conveniently laid out in PDF.
Confirmation
Our team will contact the liveaboard on your behalf to confirm availability and other booking details. We put your place(s) on hold and get back to you within 24 hours. If there are any issues, we come back to you with alternative options.
Payment
Once your booking is confirmed, you will receive an email notification with payment instructions. You then have up to 72 hours to take care of other travel arrangements and process the transaction to secure your reservation.
Payment Terms & Cancellation Policy
Expand
Payment Terms & Cancellation Policy
Book with Divebooker and get extra benefits
No Booking Fees
Loyalty Club Benefits
FREE DAN Dive Insurance
Book Now Pay Later
Best Price Guarantee
Special Offers & Deals
24/7 Expert Support
Cabins
View deck plan
Deluxe Stateroom (#2, 3, 4, 5, 6, 7, 8)
Size

6.2

Deck

Lower Deck

Bedding

Double Bed + Twin Bed (Bunk-Style)

Max occupancy

2 Guests

Ensuite Bathroom

Ensuite Bathroom

Aircon

Aircon

Number of Cabins

7 Cabins
Cabin with double bed (lower) and twin bed (upper) bunk-style, port window. All with private head and showers, individual climate control, monitor with media player and hairdryer
Read more
Deluxe Stateroom (#1)
Size

7.3

Deck

Lower Deck

Bedding

Twin Beds (Bunk-Style)

Max occupancy

2 Guests

Ensuite Bathroom

Ensuite Bathroom

Aircon

Aircon

Number of Cabins

1 Cabin
Cabin with two bunk-style single beds, no port window. All with private head and showers, individual climate control, monitor with media player and hairdryer
Read more
Master Stateroom (#9)
Size

7.2

Deck

Upper Deck

Bedding

Double Bed

Max occupancy

2 Guests

Ensuite Bathroom

Ensuite Bathroom

Aircon

Aircon

Number of Cabins

1 Cabin
Cabin with double bed, private head, and shower, closet, port window, individual climate control, monitor with media player and hairdryer
Read more
Reviews about Belize Aggressor III
Cabins & Facilities

Food & drinks

Guiding & Safety

Service & Infrastructure
New Year Week Dive
Verified review
Overall, I have a great time on the Aggressor lll. The crew was attentive in most part. I'm impressed that each and every member alternate duties as matre de and dressed according, a nice touch! The food was delicious and plentiful. Also, the beer and wine was a nice touch, even though, I only drink one glass of wine for my night cap. The dive sites I would rate "8" couple sites was mediocre to visibility. I accepted better from a live aboard, since, they can find shelter due to wind. Plus, we moved from a great visibility to a bad one for dive 3&4 and 1&2 on the last days. I was a little disappointed on the Blue Hole dive! They only had 2 dive guides and it was mandatory group dive w 16 dives, 2 stayed on board. The first guide had a video camera and another guide was in the back. So many protocol was broken!!! Divers exceeded 130+ depth, buoyancy control, lots of narc divers. My friend and I had to help a diver out, since, he couldn't control his buoyancy and was sinking too fast. The guide w the camera, finally, noticed it and came to our assistant, but, handed her video camera to my friend. I was carrying a camera too, but was a customer. There was a diver that just got her nitrox certification the night before and used nitrox on that dive. She didn't watch her depth!! And that was her first deep dive and doesn't have a deep dive certification and it was the 12th dive! Also, her 1st dive of the cruise day one, she should have been required to do a refresher course. Since, she haven't dove for over 2 years. The family with 4 teenagers didn't have enough dive to have dive the BLUE HOLE. Blue Hole dive should have been required to have an ADVANCE certification. It was a chaos dives in the BLUE HOLE. Other dives, they were sometimes 3 or 4 dive guides, so, why didn't they have 3 guides on the deepest dive!! Maybe, one w a camera to film and 2 guiding and be a safety diver! Also, when the dive guide has a camera/video camera they need to limit themselves how long they are filming their sea life subjects. Other people, especially, paying customers might have a camera too and want to take a picture of the sea life before it vanished off. I finally got tired on 2 instances and took my shoots cause he/she was taking too long.. However, I didn't do that to any other divers only the camera crew. The camera outlet needs to be in a better locations. I have to cover my electrical plugs and two instance the grid was OFF. I lost footage on the Blue Hole dive and a different day. I finally moved my electrical inside to charge and the captain made a comment. I even used and shared my 2 surge protector plugs for other divers. Safety on the Blue Hole and camera etiquette should be held HIGHLY, especially ,from the crew! Other than that they were a great crew and I had a great time! The chef, Randy, was the friendliest !!! The food was the best I had, especially, Vanessa, turkey's stuffing. I didn't eat a lot of snacks but it was plentiful and delicious. Also, they accommodate of doing a midnight dive since it was New Years Eve. However, we should have pushed back an 1hr/2hr for our morning dive to the Blue Hole. I think the lack of sleep made people cranky, including me. And some people was excited and narc cause of depth and lack of sleep. Would I dive on the Aggressor again with the same crew, YES. Now, they know my expectations. I did tip them, but, I deducted some due to etiquette and safety.
Read more
Great experience, would recommend
Verified review
State of the art facilities and great crew. Half of the dive sites were great, the other half a little less exciting. Would definitely choose aggressor again
Read more
You also may be interested in
Other liveaboards in Belize