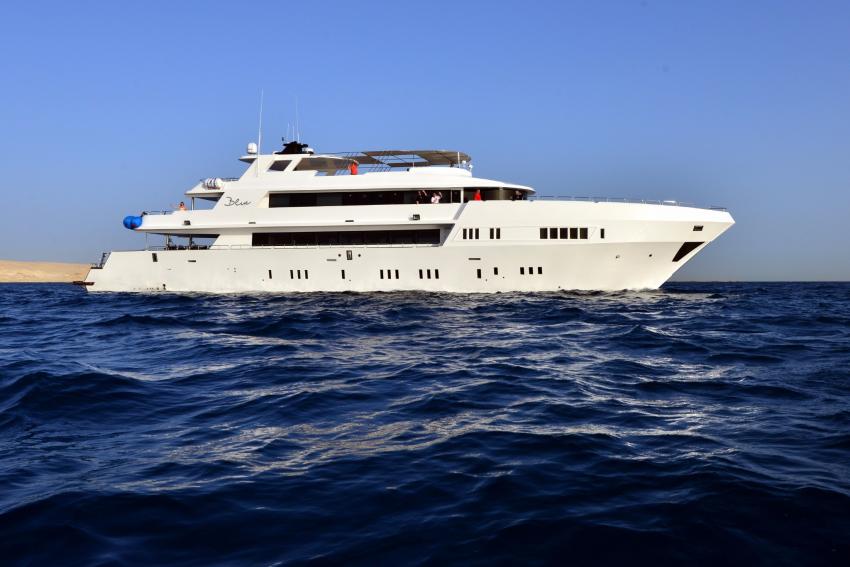 Overview

Schedule & Pricing

Cabins

Amenities

Reviews
MY Blue is a new member of Blue Planet Fleet. Boat started to run safari on the Red Sea in 2016 year. It's a modern vessel, made for divers comfort.
Boat Interior
Blue Liveaboard has space for 24 divers. She can offer accommodation in different types of cabins. There are 7 rooms on the lower deck with twin beds, one master suite on the main deck with double bed, and 4 comfortable cabins on upper deck, that in addition has big portholes and a gorgeous view. All cabins are supplied with air-conditioning and en-suite. Also, MY Blue staterooms have TV and DVD.
Spacious salon of Blue Liveaboard, is ideal to spend time in between dives. Also, it suits for briefings. On the top of the boat divers will find a sun deck, where they can get some tan, relax after diving or enjoy sunsets on the Red Sea.
Dive Deck
MY Blue was designed to suit divers needs, dive deck has enough of space for all divers to be comfortable while preparation for the dive. It also has necessary facilities to maintain and store diving gear.
Safety
Blue Liveaboard crew known how important is safety during the safari. Boat equipped with Oxygen tanks, DAN kit, life rafts, etc.
Itinerary
Itineraries of MY Blue includes all top destinations of Red Sea. Divers have an opportunity to discover the wreck of WWII, dive between tanks and motorcycles that are still staying on board of Thistlegorm, visit Abu Nuhas ship cemetery. The Red Sea famous for its colorful coral reefs. Daedalus, Brothers Islands, and Elphinstone are a well-known triangle between divers with coral walls and mountains. Blue offers also south itineraries. St. Jons and Fury Shoals are represented by caves, pinnacles, and coral gardens. Here divers can often meat hammerheads. Other creatures that are frequently seen in the Red Sea are grey reef and thresher sharks, snappers, unicornfish, groupers and many other extraordinary fish.
When to Go
Diving in Egypt is possible through the year, although winter months can be slightly cold. There no optimal season to dive with particular fish. There is such an opportunity all year round. Autumn months considered as the best for diving in Egypt.
MY Blue is a new member of experienced fleet, so you get convenience of modern boat combined with professional team and amazing diving adventures in the Red Sea
Read more
Booking process
Booking
Select the cabin of your choice and enter your personal information. Submit the booking request. Once the booking is processed, you will receive an email notification with all booking details conveniently laid out in PDF.
Confirmation
Our team will contact the liveaboard on your behalf to confirm availability and other booking details. We put your place(s) on hold and get back to you within 24 hours. If there are any issues, we come back to you with alternative options.
Payment
Once your booking is confirmed, you will receive an email notification with payment instructions. You then have up to 72 hours to take care of other travel arrangements and process the transaction to secure your reservation.
Payment Terms & Cancellation Policy
Expand
Payment Terms & Cancellation Policy
Book with Divebooker and get extra benefits
No Booking Fees
Loyalty Club Benefits
FREE DAN Dive Insurance
Book Now Pay Later
Best Price Guarantee
Special Offers & Deals
24/7 Expert Support
Cabins
Twin Cabin
Deck

Lower Deck

Bedding

Twin Beds

Max occupancy

2 Guests

Ensuite Bathroom

Ensuite Bathroom

Aircon

Aircon

Number of Cabins

6 Cabins
Each cabin has a separate bathroom with shower, toilet and hair dryer, a TV / DVD combo, individually controlled air conditioning, a safe and plenty of storage space for clothes and travel items
Read more
Bow Cabin
Deck

Lower Deck

Bedding

Twin Beds

Max occupancy

2 Guests

Ensuite Bathroom

Ensuite Bathroom

Aircon

Aircon

Number of Cabins

1 Cabin
Each cabin has a separate bathroom with shower, toilet and hair dryer, a TV / DVD combo, individually controlled air conditioning, a safe and plenty of storage space for clothes and travel items
Read more
Master Cabin
Deck

Main Deck

Bedding

Double Bed

Max occupancy

2 Guests

Ensuite Bathroom

Ensuite Bathroom

Aircon

Aircon

Number of Cabins

1 Cabin
Each cabin has a separate bathroom with shower, toilet and hair dryer, a TV / DVD combo, individually controlled air conditioning, a safe and plenty of storage space for clothes and travel items
Read more
Sea View Twin Bed Cabin
Deck

Upper Deck

Bedding

Twin Beds

Max occupancy

2 Guests

Ensuite Bathroom

Ensuite Bathroom

Aircon

Aircon

Number of Cabins

2 Cabins
Each cabin has two separate beds, a separate bathroom with shower, toilet and hair dryer, a TV / DVD combo, individually controlled air conditioning, a safe and plenty of storage space for clothes and travel items. In addition, upper deck cabins have sea views
Read more
Sea View Double Bed Cabin
Deck

Upper Deck

Bedding

Double Bed

Max occupancy

2 Guests

Ensuite Bathroom

Ensuite Bathroom

Aircon

Aircon

Number of Cabins

2 Cabins
Each cabin has a separate bathroom with shower, toilet and hair dryer, a TV / DVD combo, individually controlled air conditioning, a safe and plenty of storage space for clothes and travel items. In addition, upper deck cabins have sea views
Read more
You also may be interested in