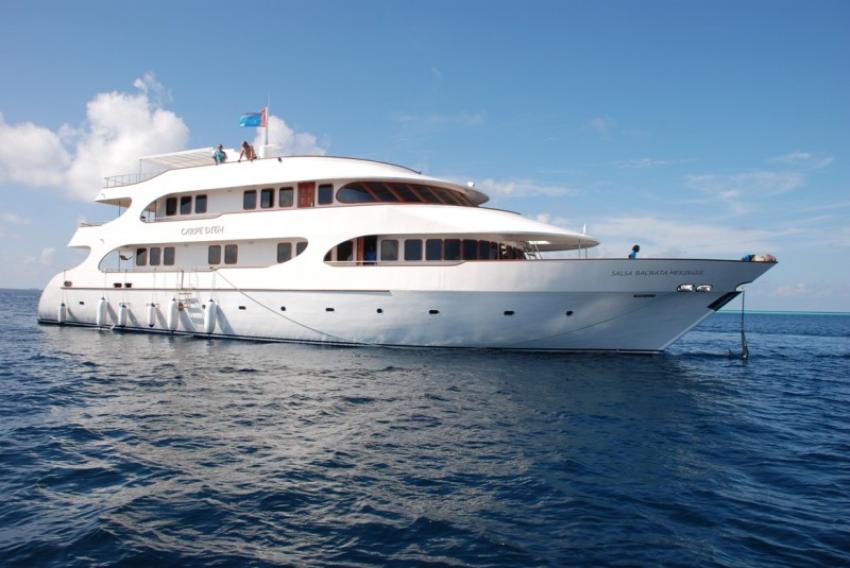 Overview

Schedule & Pricing

Cabins

Amenities

Reviews
Equipment Rental

Surcharge
Carpe Diem was the first boat of lauched by Carpe Diem Fleet. It was built in 2008 to suit divers needs and requires.
Boat Interior
10 cabins of Carpe Diem Liveaboard can welcome 20 divers and their fellow travelers. You can be sure that you will get comfort on board. Lower deck can offer accommodation in one of the six standard cabins, double cabins are placed on the main deck and suites and deluxe rooms are located on the upper deck. All they are has air conditioning and private showers. Also, each cabin has its own name, one of its called Salsa, another is Smile. Sun room situated on an upper deck and it is definitely sunny. Rooms are lights and spacious and bring you comfort that you expect from the trip.
Carpe Diem Liveaboard has several areas for you to spend time in between dives. Diving area is open air, so you can appreciate stunning views of Maldives while meals are served. Lounge on the upper deck has entertainment facilities. Also many comfortable sitting places and coaches on other boat's decks. But you are on the boat in the middle of the Maldivian clear blue waters, what can be better than enjoy the gorgeous view on the sun deck.
Dive Deck
Carpe Diem dive deck equipped with Coltri compressors also there is a possibility of nitrox filling on board. To get to the dive sites boat has a tender and a small speedboat. Rent of Scuba Pro dive gear is available on board of Carpe Diem.
Safety
Carpe Diem's team care about your safety. All needed equipment is on board: Smoke detectors, fire extinguishers, life jackets, emergency alarm.
Experienced Dive Crew
Carpe Diem Liveaboard has 2 dive guides, so divers can be separated into small teams by their level of experience. Every crew team member has many years of diving on Maldives. The have dedicated their careers to diving in this beautiful place. Each diver on a board of Carpe Diem will get a personal care.
Special Trips to the Deep South and Northern atolls of Maldives
Carpe Diem Liveaboard can offer a wide range of routes including South, Deep South and North of Maldives. These itineraries are still not explored till the end. Also, there are not too many divers in these areas so you can see all the underwater treasures, untouched coral reef and lots of pelagic animals attracted by plankton.
Itinerary
Carpe Diem itineraries include famous dive site of Maldives. During the safari, you will visit Baa and Lhaviyani Atoll, Ari Atoll and observe Manta Rays. Dive spots and lagoons where mantas can be often meet will be visited while you are on a board of Carpe diem. They will be flying around you like giant birds with their giant wings. Baa and Lhaviyani represented by thousands of coral reefs and a variety of fish. Don't miss a chance to dive with whale sharks in crystal waters of Maldives.
When to go
High season for diving on Maldives begins in December and end in May. But diving here is available all year round because of good visibility and water temperature, that is usually around 26 to 29C.
With Carpe Diem Liveaboard diving vacation can be extraordinary. You will get a comfort and many interesting dives with marvelous creatures of Maldives critters like mantas and sharks. Enjoy stunning views of blue waters, dive with one of the most experienced team
Read more
Booking process
Booking
Select the cabin of your choice and enter your personal information. Submit the booking request. Once the booking is processed, you will receive an email notification with all booking details conveniently laid out in PDF.
Confirmation
Our team will contact the liveaboard on your behalf to confirm availability and other booking details. We put your place(s) on hold and get back to you within 24 hours. If there are any issues, we come back to you with alternative options.
Payment
Once your booking is confirmed, you will receive an email notification with payment instructions. You then have up to 72 hours to take care of other travel arrangements and process the transaction to secure your reservation.
Payment Terms & Cancellation Policy
Expand
Payment Terms & Cancellation Policy
Book with Divebooker and get extra benefits
No Booking Fees
Loyalty Club Benefits
FREE DAN Dive Insurance
Book Now Pay Later
Best Price Guarantee
Special Offers & Deals
24/7 Expert Support
Cabins
View deck plan
Standard Cabin
Deck

Lower Deck

Bedding

Twin Beds

Max occupancy

2 Guests

Ensuite Bathroom

Ensuite Bathroom

Aircon

Aircon

Number of Cabins

6 Cabins
A total of 6 standard cabins, Salsa, Scuba, Surf, Smile, Snorkel and Ski are located on the cabin deck below the main deck. 4 of these standard cabins are very spacious having a queen double bed and bunk bed. The 2 other standard cabins (Smile and Snorkel) each have a single bed and single bunk bed and can only take twin sharing occupancy. All standard cabins have portholes
Read more
Double Cabin (Sand, Sea)
Deck

Main Deck

Bedding

Double Bed

Max occupancy

2 Guests

Ensuite Bathroom

Ensuite Bathroom

Aircon

Aircon

Number of Cabins

2 Cabins
The Carpe Diem has two double cabins, SEA and SAND located on the main deck, which are a little smaller than the deluxe cabin on the upper deck and standard cabins on the lower deck. They have queen size double beds and window view. Further amenities TV plus DVD/MP3 players
Read more
Deluxe Cabin (Star)
Deck

Upper Deck

Bedding

Double Bed

Max occupancy

2 Guests

Ensuite Bathroom

Ensuite Bathroom

Aircon

Aircon

Number of Cabins

1 Cabin
Opposite the suite on the upper deck is another big cabin, the STAR cabin, with a queen size double bed, flat screen TV plus DVD/MP3 player and 3 windows overlooking Maldives blue waters
Read more
Suite Cabin (Sun)
Deck

Upper Deck

Bedding

Double Bed

Max occupancy

2 Guests

Ensuite Bathroom

Ensuite Bathroom

Aircon

Aircon

Number of Cabins

1 Cabin
The very spacious suite, our SUN cabin, with over 20 m2 in size is located at the upper deck. The suite has a king size bed, a wide flat screen TV plus DVD/MP3 player and an ample closet plus storage space. The 5 windows give a beautiful view to the sea
Read more
You also may be interested in