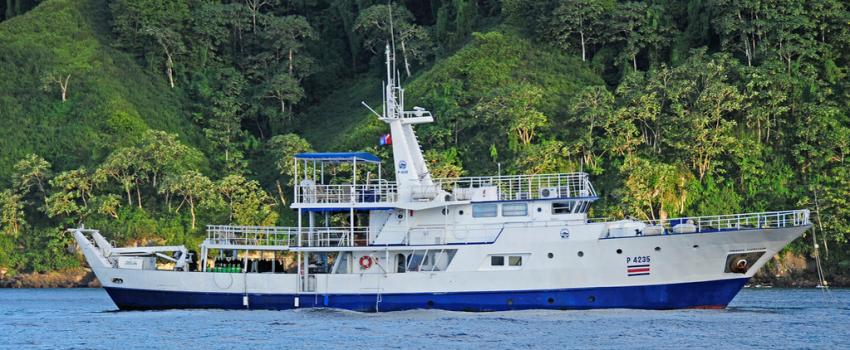 Okeanos Aggressor I Liveaboard
Overview

Schedule & Pricing

Cabins

Amenities

Reviews
Equipment Rental

Surcharge
Fleet name

Aggressor Fleet

Year built

1972

Length

33.5

Width

7.3

Capacity

22

Material

Steel
Okeanos Aggressor I offers excellent diving serviсes, highly experienced crew team. Boat's quad cabins suit perfectly for traveling with family or company. The yacht features a complete photo center with a computer to download images and a photo table to maintain cameras and charging station. A trip on board of Okeanos Aggressor I is great opportunity to discover Cocos Island, Bat Island and Cano. These destinations are famous for the chance to see big pelagic creatures like bull shark, mantas, and whale sharks.
Boat interior
The Okeanos Aggressor I can accommodate guests in two types of cabins. Deluxe cabins have two bunk-style beds, individual showers, and air conditioning, and all have monitors with media players. There are also quad staterooms that you can share with other divers, family, or friends. Each room has climate control and showers. The boat's lounge area is combined with the dining area. It's perfect for relaxation after a day of diving and chatting with other passengers of Okeanos Aggressor I. Those who want to stay in the fresh air and enjoy the gorgeous sea view can spend time on the sun deck.
Dive deck
The Okeanos Aggressor I dive deck equipped with rinsing tanks and personal storage boxes. There are a table and several charging points for maintaining cameras. The boat has a nitrox membrane.
Safety
The Okeanos Aggressor I's crew takes care of safety during the safari. The boat is supplied with all necessary items, such as first-aid kits, automatic external defibrillators, emergency rafts, and life jackets.
Photographer-friendly boat
The Okeanos Aggressor I is perfectly suited for photographers. The boat's dive deck has a camera table for maintaining camera equipment, and there are several charging points. It is possible to work with images on the boat's computer. Photo packages can be rented on board the Okeanos Aggressor I.
Itineraries
The Okeanos Aggressor I's itineraries include some amazing dive sites on Cocos Island. This destination only has 20 spots, but there are an array of landscapes. Deep pinnacles over 40 m/131 ft deep and vertical walls can be really interesting for advanced divers. Drift dives or blue-water dives are possible here.Some of the dive sites that are included in Okeanos Aggressor I's trips, like Dirty Rock and Bajo Alcyone, are great opportunities to see hammerheads, which is the main attraction of this area.
When to go
Cocos Island is located on the equator, so there are two seasons for diving here. The dry season lasts from December to May when the sea is calmer. The rainy season is the high season for diving on Cocos Island and is usually the best time to dive with hammerhead sharks.
Take your trip on the Okeanos Aggressor I to have truly amazing diving on Cocos Island as well as comfort and an experienced crew.
Read more
Booking process
Booking
Select the cabin of your choice and enter your personal information. Submit the booking request. Once the booking is processed, you will receive an email notification with all booking details conveniently laid out in PDF.
Confirmation
Our team will contact the liveaboard on your behalf to confirm availability and other booking details. We put your place(s) on hold and get back to you within 24 hours. If there are any issues, we come back to you with alternative options.
Payment
Once your booking is confirmed, you will receive an email notification with payment instructions. You then have up to 72 hours to take care of other travel arrangements and process the transaction to secure your reservation.
Payment Terms & Cancellation Policy
Expand
Payment Terms & Cancellation Policy
Book with Divebooker and get extra benefits
No Booking Fees
Loyalty Club Benefits
FREE DAN Dive Insurance
Book Now Pay Later
Best Price Guarantee
Special Offers & Deals
24/7 Expert Support
Cabins
View deck plan
Quad Stateroom (#2)
Size

7.6

Deck

Lower Deck

Bedding

2 Double Beds + 2 Twin Beds (Bunk-Style)

Max occupancy

4 Guests

Ensuite Bathroom

Ensuite Bathroom

Aircon

Aircon

Number of Cabins

1 Cabin
Cabin with two lower full-sized beds and two upper single beds (bunk-style), porthole, private head and shower, individual climate control, and monitor with media player
Read more
Deluxe Stateroom (#5, 6, 7, 8, 9, 10, 11)
Size

3.2

Deck

Lower Deck, Upper Deck

Bedding

Twin Beds (Bunk-Style)

Max occupancy

2 Guests

Ensuite Bathroom

Ensuite Bathroom

Aircon

Aircon

Number of Cabins

7 Cabins
Staterooms #5-6 have 2 single beds (bunk-style). Staterooms #7-11 have a lower double bed and single upper bed (bunk-style). All have either a port hole or picture window, and monitor with media player player
Read more
Twin Stateroom (#3, 4)
Size

4.1

Deck

Lower Deck

Bedding

Double Bed + Twin Bed (Bunk-Style)

Max occupancy

2 Guests

Ensuite Bathroom

Ensuite Bathroom

Aircon

Aircon

Number of Cabins

2 Cabins
With two single beds (bunk-style) the twin stateroom has a porthole, private head and shower, individual climate control, and monitor with media player. The twin stateroom is very similar to the deluxe, however, is smaller
Read more
Reviews about Okeanos Aggressor I
You also may be interested in
Other liveaboards in Costa Rica
Best destinations for liveaboard trips